As Ava's birthday is straight after Christmas, I decided that we perhaps wouldn't give her as much for her birthday last year and then give her an extra gift over the summer so she didn't get too much at once.
She really wanted a doll, so towards the end of the summer holidays, before she started school for the first time, I bought her a BABY born Interactive doll, and she has absolutely loved it. This one is a newborn doll, and she plays with her in the bath, feeds her, puts her to bed at night and takes her out with us.
Ava was then lucky enough (read: spoilt) to be sent the BABY born Sister doll to add to her collection! The BABY born Sister is the older sibling of the original BABY born, and has long hair and a cute little outfit.
Like her little sister, she has some lifelike functions, including crying and drinking, and she comes with a range of accessories including her water bottle. You can style her long blonde hair with her hair clips, bobbles and a brush – and she comes with two friendship bracelets; one for her and one for the child.
The clothes she wears can actually be swapped with her little sister, as they are the same height, so Ava loves changing their clothes and shoes around and mixing and matching them! She sometimes needs a bit of help getting the trousers on in particular (usually if she's feeling lazy), but she loves being able to get them dressed into the outfit she chooses for them.
BABY born Sister has flexible joints (because she loves going to her gym classes apparently!), and she can stand on her own, although, it's not that easy to get her stand by herself.
BABY born Sister can go in the bath, but it is more of a pain to do so – she isn't supposed to be submerged (unlike the Interactive baby who is fully waterproof), and if she is (she was!) then you need to undo the plastic 'screw' on her back to let her air out, as well as shaking her quite a bit to drain the water. Also, she has long hair, so you have to brush that after they have finished in the bath, and then obviously let it dry before you can play with her again. It's not a huge deal, but I just prefer to keep this one out of the bath if at all possible because it can be a bit of a faff, especially as you're trying to dry your child at the same time!
Ava loves having both of the dolls, and that her baby has a big sister now; she plays with them both together as well as separately, and she really loves doing roleplay with them where she's the mummy and they all get ready and go to the park. It's so lovely to see and hear, and it also helps to boost the imagination – it has been proven to support the development of social skills and values such as responsibility, communication and empathy. I used to absolutely love playing mummy's and babies when I was little, and I love seeing Ava do it now.
I love that despite the fact the dolls are interactive and can cry tears, they don't make noises or have batteries – so many toys seems to have to do everything nowadays, so it's nice to just have these that don't have to make noises.
She's a lovely doll, and is nicely realistic, without being too lifelike. These dolls are Ava's favourite toys at the moment and one of them is usually with us wherever we go.
I have always found Zapf Creation dolls to be really good quality, and nice to look at (unlike some of the creepy dolls on the market!) – we actually still have a lovely Zapf Creation doll that was mine, and it still looks as good as (almost) new. In case you need to know, the young Louise decided to call him Nicky, and he became 'Nicky with the willy' for some bizarre reason – luckily Ava has changed his name to something more sane.
They aren't the cheapest dolls out there – the BABY born Sister has an RRP of £44.99 – but I think they are great quality, with lots of great details that kids love, and I think they will last a really long time. If your child is really into dolls they will make a great Christmas present that they will get so much use out of.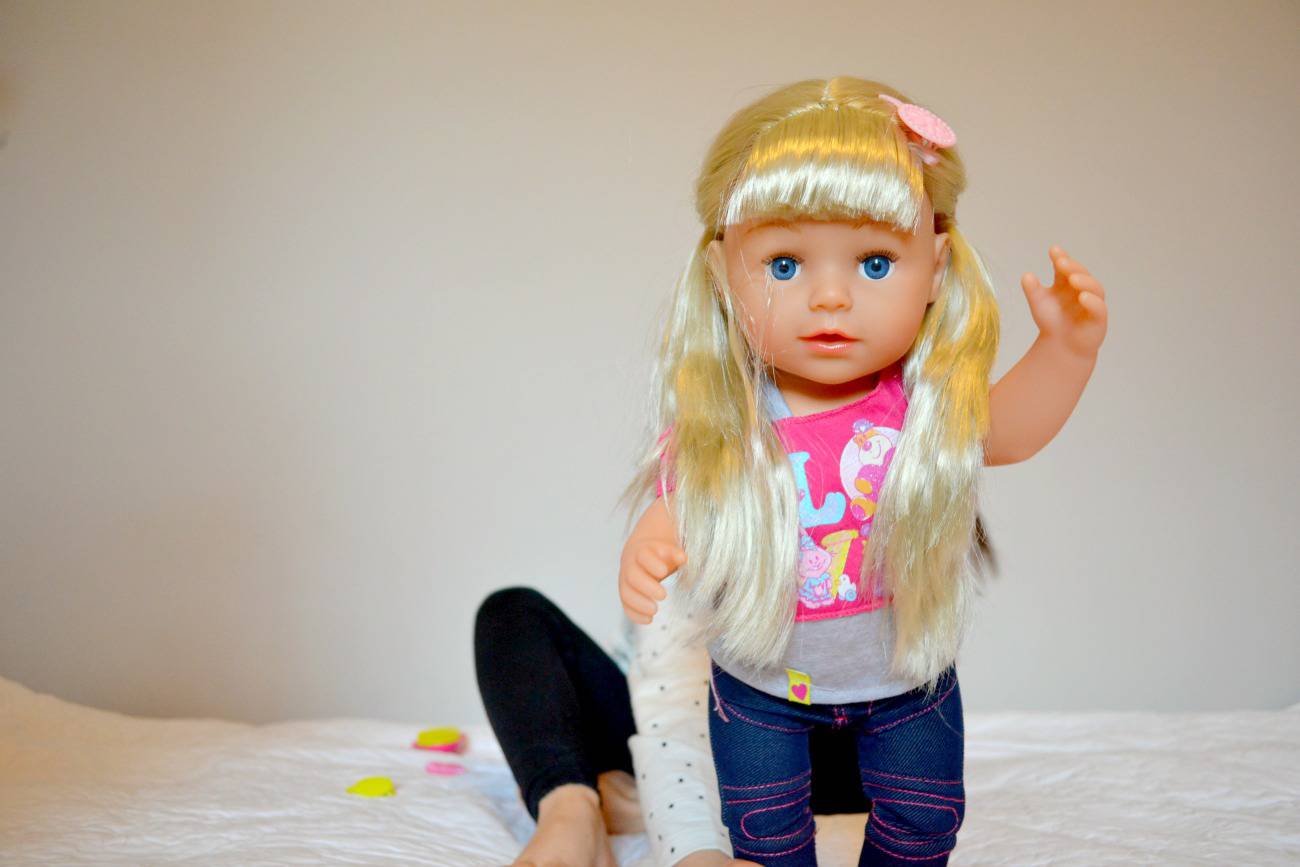 The world of BABY born is celebrating a 25th Birthday this year, so they have lots of new additions and themes for Autumn/Winter 2016. You can get lots of accessories in the range that all work together – there is a bed that can be used as a cot for the baby, and a bed without the sides for the big sister, which Ava really wants. There's also a matching change bag, which Santa/Granny may be getting her for Christmas, as well as a pony farm, dragons and a bath for the dolls!
Here's a little video of Ava playing with her BABY born Sister if you'd like to have a look…
Ava loves her dolls so much, and I think they will be a favourite toy for a long time. I think they are lovely too, and I love seeing the nurturing side of my daughter when she is playing with them.
We were sent the BABY born Sister doll to review, but all thoughts and words are my own, or Ava's.